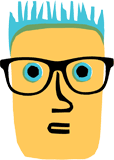 Timothy Cook's illustration style combines traditional printmaking techniques and digital media. He graduated with a major in both illustration and graphic design from Virginia Commonwealth University.

Timothy has served on the boards of the Illustrators Club and the American Institute of Graphic Arts in Washington, DC. He has had the pleasure of teaching illustration at art schools in São Paulo and Rio de Janeiro, Brazil. He has also worked in Italy, where he designed a series of stained-glass windows for a church in Rome.
Timothy has received recognition for his artwork from various organizations including Communication Arts, 3x3, American Illustration, the Society of Illustrators and the American Institute of Graphic Arts. His client list includes American Express, Brown University, Fidelity Investments, Jaguar Land Rover, Hewlett Packard, MasterCard, Microsoft, National Institutes of Health, National Public Radio, The New York Times, PepsiCo, Stanford University, TIME magazine and The Wall Street Journal.